I haven't really been doing all that well with my blog here so far... as soon as i start again... things come up and I have no time for poker anymore so this falls by the wayside. I have been playing a bit again recently, and enjoyed some success at the tables.

Allow me to bring you up to speed with what my current plans are.
I was depositing small amounts ($45 at a time) to play the $4.50 180 man slow MTTSNG's on stars. I love these, as they closer resemble the pacing of a live game than this turbo nonsense. I guess thats why I never did too great online... this "turbo nonsense". I see the benefit in turbos, yes. I just don't think they're the tournament for me. I have much more success at slower, deeper tournaments. so these 180 man's are perfect for me. (sidenote, I'm not bunching hyper turbos in with turbos here, I will on occasion play these and have had some success in them, though no sample size).
the problem with the 180 mans is they dont run frequently. (not the $4.50 slow ones, the turbos do). There is about 6-8 hours a day I can keep my table grid full of 180 mans with ~ 10-15 minute reg time. Because of this, I started playing some MTT's of around the same buyin and below, but again only non turbos. I ended up sitting down at 6am (with no sleep yet) in the bigger $3.30. Not my best move ever... but anyways. 10.5 hours later, I bust out with probably a badly played hand in second place, for $1.6k. Thats enough to get my bank back to the positive (important!), and pay off some longstanding debts I had (only small ones, but I needed to get rid of them), and leave me with a healthy amount on stars still. (I left $550 on stars).

That was 4 days ago. Jump ahead to today, and Ive played a few more 180 mans (though I have been playing the wrong times of day for various reasons, so Ive been playing more MTT's than anyhting else). Acount currently stands at $764.21. My 2 notable MTT's since then have been 21/6.3k in the big $4.40 (deep, but no cash... only had $60ish back...) and a second place I literally jsut finished playing in a $4 $1.5K guar.
So, what will I be doing going forward? I will try to finish working each day by about 6pm (though that will be pretty hard to stick to) and be ready to play some poker by about 8pm. This gets me playing as the 180mans get going. As far as targets go... If I have any significant success I will be cashing out more. I put my tracknig thing to target 10K by the end of the year... Frankly thats highly ambitious I know... and its not really a goal I've set myself... But I needed some figure above what I have... and it seemed like a nice round figure to use.

I will be starting a new Database in HEM as I havent been graphing anything up til this point so I can give you some images to look at...
In other news...... My tournaments graph on sharkscope are now in the +!

Have a chuckle if you like: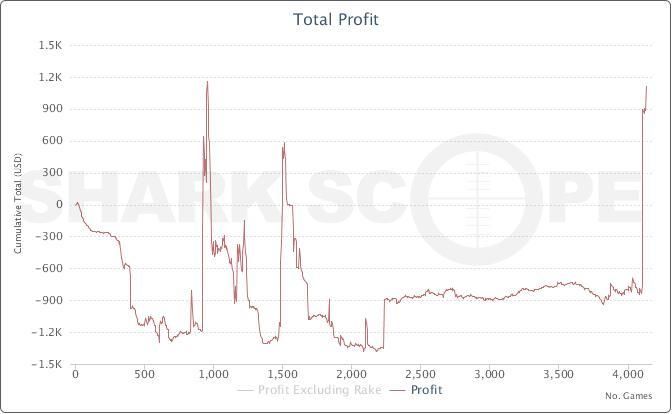 So whats the plan from here regarding this blog? Well... I cant see anything taking me away from poker anytime soon now... ive streamlined the business, meaning I spend far less time doing things with it... and theres not much else going on right now. I hope to follow this up every week-3weeks roughly... depending on how busy I actually get and whether theres anything worth talking about or not...